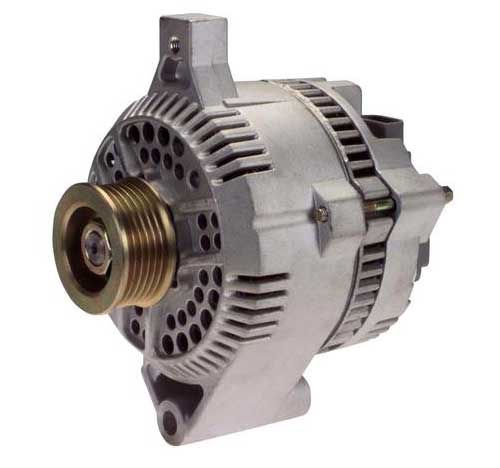 MC'S AutoFactors carry an extensive stock of alternators for all Ford vehicle models. So if you are looking for an alternator for your Ford please call our parts hotline at (01) 408 9042 today for the best value available anywhere, plus next day express delivery of your Ford alternator to any destination throughout Ireland.
What are Car Alternators?
Even though a car's alternator plays a vital role in the operation of the vehicle it is a comparatively simple car component with just a few parts. The alternator keeps the battery charged while also helping to keep electrical accessories, including the lights, going while the car is running. Alternators are efficient at charging the battery at low revolutions per minute. As cars run off a DC current the AC output of the alternator is converted to DC by rectifier diodes.
Problems With the Alternator
Problems with the alternator may manifest themselves in a range of symptoms, from slow starts to a completely dead car. As the alternator is connected to other systems within the car a great many car problems can adversely affect the alternator and may cause some difficulties in diagnosing mechanical problems.
Warning Lights
If a problem develops with the alternator you may notice the ALT or GEN warning lights on the dashboard. This may begin with a brief flicker of the warning light for a second of two. As you make more demands on the car's power e.g. using the windscreen wipers, rear window de-mister etc. the light may stay on permanently.
Failure of Electrical Accessories and/or Dimming Headlights
A defective or failing alternator may also manifest itself though dim headlights, dim dashboard display, and the failure, or poor function, of other electrical accessories. Modern cars generally have a hierarchy of electrical accessories that will fail in such and order to give driver safety priority. For example, heated seats or the radio may fail first before the headlights might be affected.
If you need to order a replacement Ford alternator please contact MC's today.