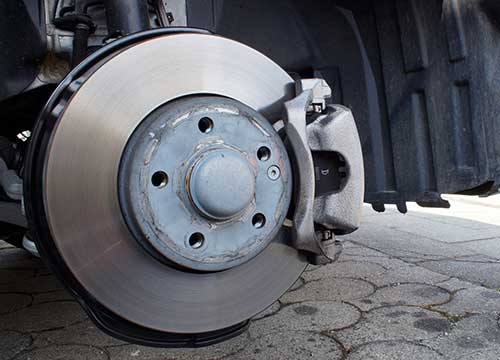 MC'S AutoFactors carry an extensive stock of brake pads for all Ford vehicle models. So if you are looking for brake pads for your Ford please call our parts hotline at (01) 408 9042 today for the best value available anywhere, plus next day express delivery of your Ford brake pads to any destination throughout Ireland.
What are Brake Pads?
The main function of your vehicle's brake pads is to to take the the brunt of the frictional force necessary to stop your vehicle. In a normal disc brake system, when you put your foot on the brake pedal this activates a hydraulic line that squeezes callipers against the discs of the car's tyres. Pads are situated between the callipers and the discs to absorb the energy and heat, and to provide enough grip to stop the vehicle.
It is the friction between the pads and discs that is the key element to stopping the vehicle in a disc brake system. However over time however the brake pads of a car wear down and will compromise driver safety. Most brake pads sold today are usually semi-metallic such as copper, brass, and steel wool shavings held together in a resin. As they are largely metallic and with normal use, they can last for thousands of miles. Brake pads often have special pieces built into them to deliberately create a grinding noise as they wear out. This is a safety feature to alert motorists to have them replaced. If the pads are not changed quickly enough eventually the exposed metal of the calliper may carve out a channel in the brake disc. In such an event the entire disc must either be replaced or turned. In some cases your mechanics may be able to shave off a thin layer of metal from the disc to remove minor grooves.
New brake pads can be replaced in a few hours if the vehicle owner has the tools and the patience to perform the job. It is important to apply a special lubricating grease between the new pads and the callipers to avoid a horrendous grinding noise. The callipers may also have to be readjusted to accommodate the thickness of the new brake pads.
If you need to order replacement Ford brake pads please contact MC's today.