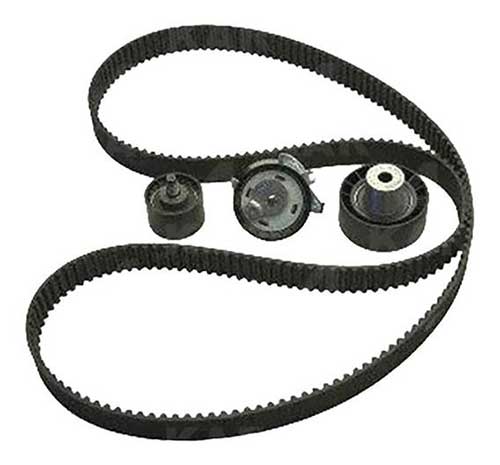 MC'S AutoFactors carry an extensive stock of timing belts for all Ford vehicle models. So if you are looking for a timing belt for your Ford please call our parts hotline at (01) 408 9042 today for the best value available anywhere, plus next day express delivery of your Ford timing belt to any destination throughout Ireland.
What is a Car Timing Belt?
The main function of your vehicle's timing belt is to help the efficient running of the engine. Car manufacturers install timing belts instead of more permanent chains as they cheaper and generate less engine noise.
The timing belt turns the camshaft at exactly half of the speed of the crankshaft while maintaining an exact alignment. The camshaft causes the intake and exhaust valves to open and close in time with the pistons which move up and down in the cylinders. The valves must open and close at exactly the right time in relationship to the piston movement in order for the vehicle's engine to run properly.
It is vital that you change your timing belt at set intervals as indicated in your driver's handbook. This is likely to be somewhere between 60,000 and 100,000 miles – depending upon the vehicle. Failure to change the belt in time can have catastrophic consequences for your vehicle. The collateral damage to your car or van's engine will be far more expensive to repair than the cost of buying and changing you timing belt as recommended by the manufacturer.
If you need to order a replacement Ford timing belt please contact MC's today.